PRSL Models

Click on the photos to make them larger.

For some of us, modeling the PRSL is the only way of connecting to the memory of it. The transition era was before some of us were born. Here are some examples of members modeling the PRSL.

The PRSL in N Scale

By Lou Fols

<![if !vml]><![endif]> 

<![if !vml]><![endif]>
Rick Balassaitis N Scale
<![if !vml]>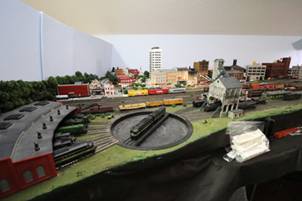 <![endif]> <![if !vml]>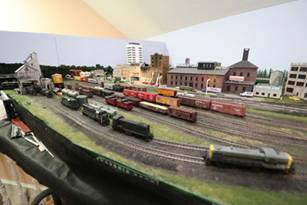 <![endif]> <![if !vml]>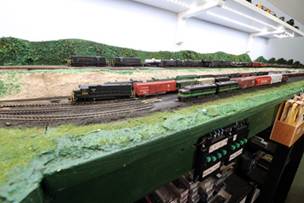 <![endif]>
The PRSL in HO Scale
By Tom Mihalko
<![if !vml]>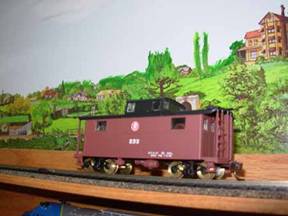 <![endif]> <![if !vml]>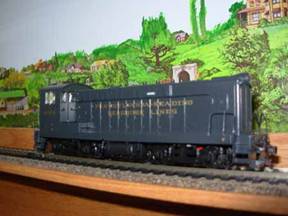 <![endif]> <![if !vml]>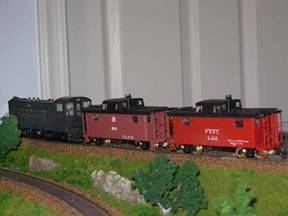 <![endif]>
<![if !vml]>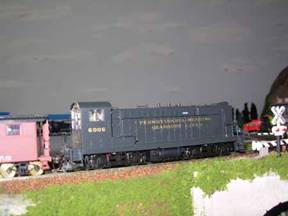 <![endif]> <![if !vml]>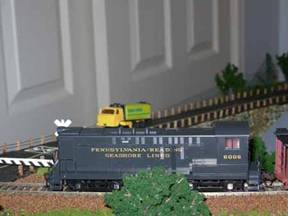 <![endif]> <![if !vml]>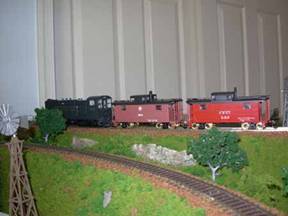 <![endif]>
Mike Andrescavage's AS16
On Steve Moylan's layout in Deptford NJ
<![if !vml]>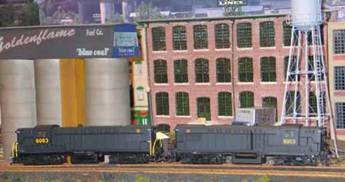 <![endif]> <![if !vml]>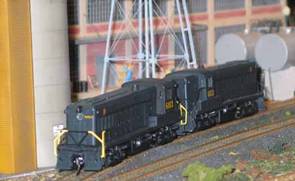 <![endif]>
The PRSL in S Scale
By Bill Lane
This N5 is a brass Overland Models piece that was imported in 1985. It is the first Cabin Car that I ever painted in about 1991. It is right out of the box with no modifications. I was trying to simulate the white streaking under the lettering, as best as I could with the "Binks" airbrush I was using at the time.
S Scale PRSL B60
This is an S Scale PRSL B60 made by Southwind Models.
I changed the doors and added the K4 tender style trucks.
S Scale PRSL RDC by Omnicon
S Scale PRR K4 5495
S Scale Reading G-1sb 204
S Scale Reading P-7sb 353
<![if !vml]>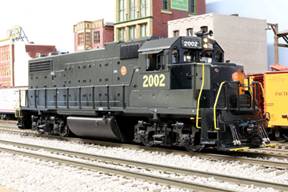 <![endif]> <![if !vml]>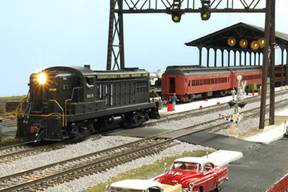 <![endif]> <![if !vml]>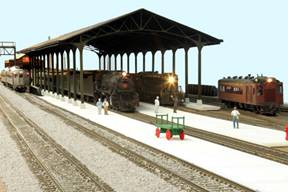 <![endif]> 
The PRSL in O Scale
Member Buzz Burnley brought his beautiful O Scale PRSL RDC to the 9-25-08 meeting
<![if !vml]>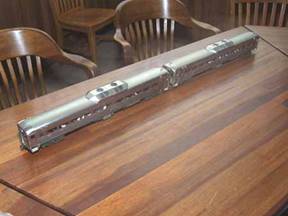 <![endif]> <![if !vml]>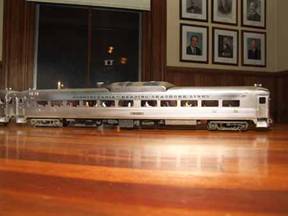 <![endif]>
Buzz brought his K4 5495 to the meeting on 2-26-09
<![if !vml]>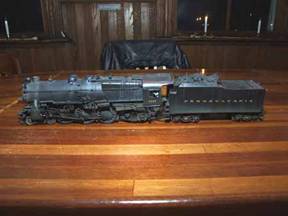 <![endif]> <![if !vml]>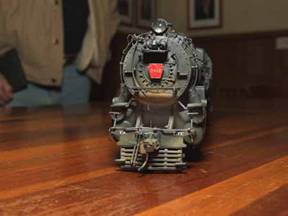 <![endif]>
These O Scale models are owned by Jim Foster.
These photos do not pop up bigger.
K4 5497
<![if !vml]>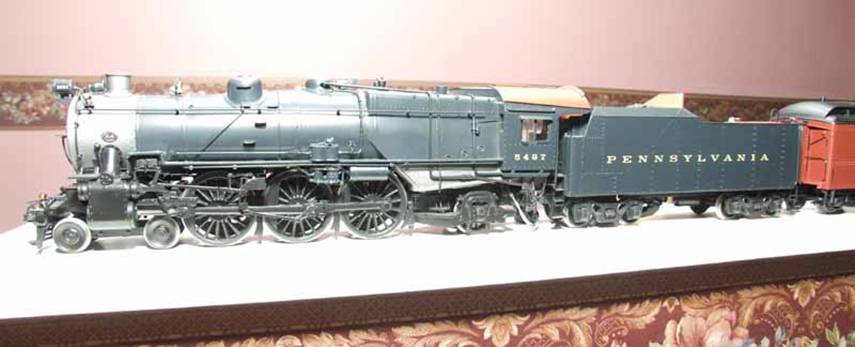 <![endif]>
Here is my custom O Scale model of PRR G-5 #5720 as it appeared in its last days of PRSL service. I reworked an MTH by removing some out of scale smokebox hinges and brightwork, changing the keystone, and marrying it with a correct brass Weaver tender. I then custom painted and lettered it. You cannot see the pilot well, but it says "EA CTE". I know it is 3-rail so don't go too crazy with the rivet counting, but I think the flavor us there.
<![if !vml]>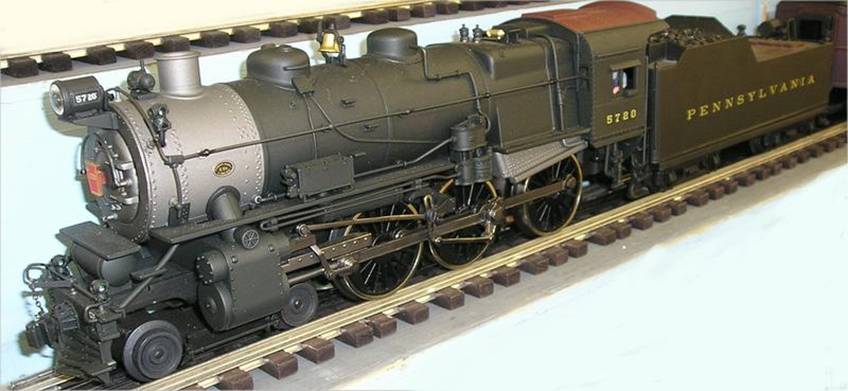 <![endif]>
Actually this is a Golden Gate PRR 12-1 Pullman Sleeper. I decided it was close enough to a parlor configuration so I corrected the fact that Golden Gate uses an incorrect font for its PRR passenger car lettering and then renamed it and added the "parlor" markings. I needed a parlor car for the Atlantic City Express, and I thought this was close enough.
<![if !vml]>

<![endif]>
Sunset brass PRR H-6 relettered as PRSL 60l6. I still have to darken the smoke box and graphite the rods.
<![if !vml]>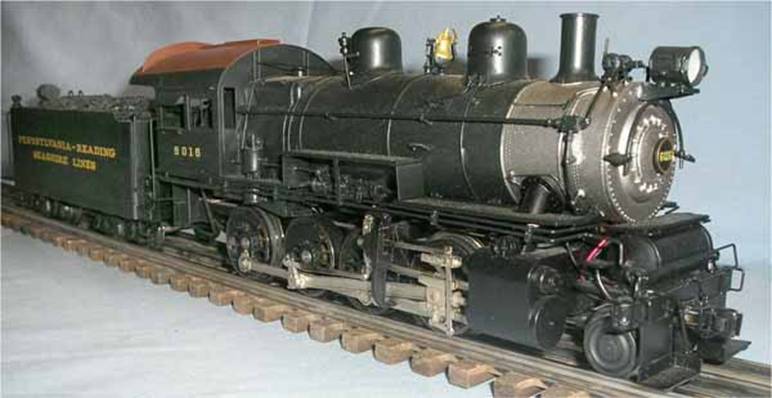 <![endif]>
A few years ago MTH produced and excellent O scale CNJ G-3 that was not simply a modified heavy USRA pacific as some have done. After making a couple of minor corrections to the locomotive, I decided to build a set of cars that were reasonably close to the actual train. The factory produced ones that are lettered for the Comet are way off the map and include Pullman window design, wrong trucks, a phony diner, and many incorrect details.
Although not all shown, I did the baggage, combine, coaches, club car and observation. Baggage and club have 6-wheel friction bearing trucks and others 4 wheel roller as did the prototype. All but club car are 72' and club the correct 82' length. The club was built by cutting and splicing two diners and does have the truss rods. I mixed the colors from an old formula that was taken from a surviving car. I had the decals custom made and have every car name. I built 5 sets of the cars in three rail and one in 2 rail which I want to keep. All but one of the 3 rail were sold. If anyone is interested I have the locomotive and 7 cars including two differently lettered combines available in 3 rail.
<![if !vml]>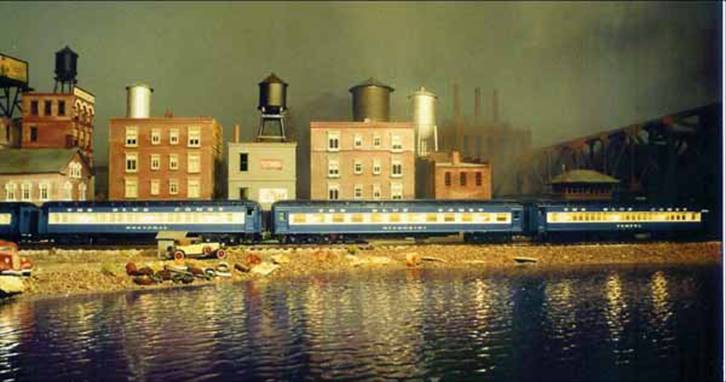 <![endif]>
Trolleys
O Gauge model by M. Mitchell Marmel
Shore Fast Line #105 roars past Pittsburgh Railways #1713 at the junction on my home layout.  This modified Pittman Brill, which I estimate was originally built in the 1950s by person or persons unknown, was purchased on eBay sans poles, trucks or lights and has been brought back to life with new Bowser trucks, Western Hobbycraft poles, a vintage Suydam headlight mounted in the removable headlight casting and a vintage Walthers tube interior light.  Side windows came from an MTH RailKing PCC package, and were frosted by light application of a fine grit sandpaper.
<![if !vml]>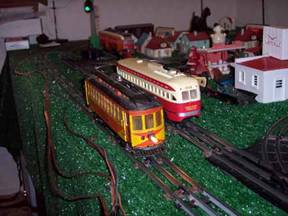 <![endif]>
© PRSLHS 2021
Revised 5-7-21
Resuscitated from a 20 year nap on 1-25-07