PRSLHS Meetings

Finding a place with free meeting space that can hold to a schedule planned months in advance has proven to be all but impossible. As of 5-7-21, the date of this website revision there have not been any in person meetings for a few years. With the use of virtual meetings on ZOOM there could be some random events.  

 
Our First Meeting!
We had our first official PRSLHS meeting on Thursday May 17, 2007
Due to a Wenonah Train station scheduling issue we moved the meeting for the night across the street to the Wenonah Fire House. PRSLHS member Rich Taylor drove 100 miles to give us an excellent original slide show.
Thank You Rich!
We had 10 people attend including 1 former PRSL employee. We had PRSL models and items on display. Everyone went home with a door prize.
Click on the photos to make them larger
<![if !vml]>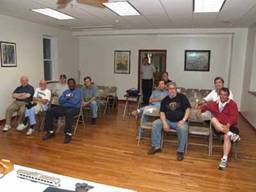 <![endif]>  <![if !vml]>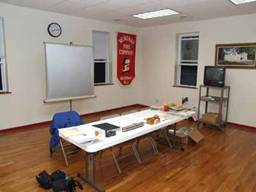 <![endif]>
5-17-07 Meeting  Wenonah Fire House
First Anniversary Dinner
We had our first anniversary dinner on 1-25-08
PRSLHS members, friends and family had dinner at the Woodbury NJ Train Station, The Cooper Express.
The winter hours were in effect, which closed at 2:00. Restaurant manager Fran Walls could not have been
more accommodating. He reopened just for us at 6:00. The food was awesome and service was second to none.
We would like to thank Fran and the Cooper Express staff for their hospitality.
As of January 2009 The Cooper Express is closed.
2-28-08 Meeting
At the Wenonah NJ PRSL Train Station
Featuring the original PRSL slides of Harry Foster
Nothing says PRSL like Tie Die!
September 25, 2008
Here we are with our stylin' new PRSLHS hats and shirts.
(Back row from left)
Tom Duke, Bill Lane, Lou McCall, Curt Hudson
Front Row
Tom Moran
February 26, 2009
On 2-26-09 we smashed all previous attendance records with 29 people. There were models brought by Buzz Burnley & Bill Lane.
The presentation was late PRR and Penn Central given by Dave Hobson.
© PRSLHS 2021
Resuscitated from a 20 year nap on 1-25-07
Updated 5-7-21