PRSL People

A railroad is the right of way, stations, roundhouses, locomotives, passenger cars and freight cars of all kinds. It is track, grade crossings, signal systems, and loading docks.

But nothing would work without the people involved to make it all happen.

In January 2010 the group spontaneously started discussing former PRSL employee Alex DiCarlo. For me such stories and accounts are truly PRICELESS. Here are some of the stories. More will be added as they are discussed.
Nick Frankunas got us started off with a photo and a wonderful remembrance.
Alex is at the far right facing the photographer.
As a result of this exchange it was learned Alex passed in 1999.
<![if !vml]>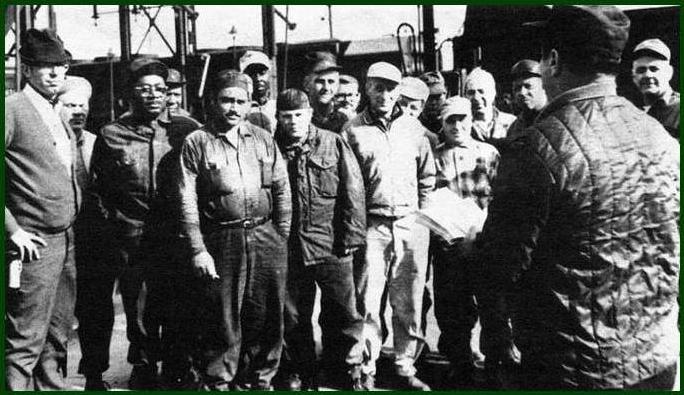 <![endif]>
Everyone liked Al DiCarlo at the EH when he was gang foreman in the 70's. Al was a true gentleman who never gave insult to others. (Al is in the photo - extreme right)
Also pictured in the SR promo photo is Tony Robino; He was the foreman who is reading the daily Safety Rule to the men. (A RR suggested practice)
Not shown, but one of the most unforgettable characters that I've ever met, is "Joe Joe" who - due to unknown reasons, was assigned to light duty as a maintenance custodian/helper on the Service track at that time. Joe Joe also owned a Pool hall in Camden and seemed to have the phone glued to his ear...This was before the invention of the cell phone. He was pretty slick and called everyone under 30 - kid. He would often say, "Hey kid, would you mind throwing that switch for me?" or, "how about putting some sand in that Geep kid." He tried to get all the new guys feel sorry for him and - do his job. We would help him but Al DiCarlo would tip off the new employees to Joe Joe's antics and keep things in proper order.
Also not shown in the photo but never the less unforgettable, was Joe Slack the tough but gentle natured relief foreman and articulate foreman Bill McCabe - who later became an Motive Power inspector for the FRA. Two great guys to work with!
Those were the days (the mid 70's) of preparing and moving most of those old Baldwins and Alcos from the Pavonia EH storage tracks to the scrap dealers...A rail fan's fantastic opportunity for many photo shots. However, most regular employees never took pictures because it was just a job and one could be labeled as a "foamer" walking/working around railroad property with a camera.
Many crews like CM90/91 with Charlie Laird and Robinson conducting signed up at the Engine House and worked 12 hr. days + deadheading back to Pavonia. The Cape May Magnisite plant was in operation, the Budd cars ran passengers to Ocean city and AC Electric was a steady customer for the RR and usually the PRSL prior rights employees worked those assignments up until the Conrail takeover in '76. I remember that a lot of folks would wave to the train crews going through Magnolia and Strafford. Al Elbridge was trainmaster at Tuckahoe and often would ride his car along the freight train down highway 9 to Cape May Point. One time he even pulled a motorist over who had ignored the flashing red lights at a RR crossing and pulled out his Fireman's badge and warned the offender of the consequences. (I suppose, he was an early OLS enforcer - of sorts). The EMD 2000 series Locos did a great job back then and maintenance and operational RR employees were quite content in knowing that they had played an essential part in helping the South Jersey economy keep going.
Gary Evans
During the two summers I worked on the PRSL, I remember Alex as a great can do guy who kept the Baldwins running with nothing but bailing wire, duct tape, a wing and a prayer, and no money, which we all know, was always in short supply on the PRSL. I'm sorry to learn of his passing. He was a man among men and a first class railroader and was beloved and respected by all whom he worked with...
Charlie Warner
Alex DiCarlo and I were good friends. The one thing I will never forget is the day he ran the 6016 into the turntable pit at 2nd and Clinton St. and it caught fire. I witnessed this and I can still see the look on his face. The 6016 became my favorite Baldwin. When it went to scrap Alex rewarded me with the horns, builders plates, and number boards as well as similar items from a lot of the other Baldwins. Thanks to him and Tony Robino, I have a large collection of Baldwin Memorabilia to display in my forthcoming train room. Rest In Peace Alex.
Don Lee
Two faces in the photo seem familiar to me, the black man with glasses third from the left and the guy with the thin mustache standing in front of him. Did they go out on road failures? Sometimes the engine house people would hang out with the operator at a tower while they waited for a train with a locomotive that they had to fix. After studying the photo, Al DiCarlo is familiar to me as well. The time frame that we could have crossed paths was in the mid to late 60ís. Since I never had reason to interact with these guys at the engine house, I would have had to met them on the road.
© PRSLHS 2010
Revised 5-7-21
Resuscitated from a 20 year nap on 1-25-07