Jim Foster's PRSLHS Page 2

Click on the photos to make them larger

<![if !vml]><![endif]>

Taken I believe at 10 Street in Ocean City in '54 or '55. Not quite in focus I am pretty sure the G5 is 5720 and yes, that is me and two of my sisters in the photo. Fairly rare color shot, especially considering the cost of film and processing in color at that time. My father took all the color with a prewar Leica.
K4 5495 and AS16 6004 Cold Spring Harbor 1955
(Bill gives this shot 2 thumbs WAY up!)
<![if !vml]>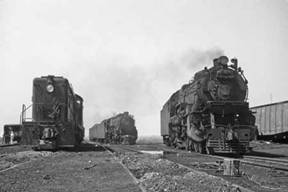 <![endif]>
An unidentified K-4 with a typical mid-day Wildwood train running in West Wildwood. I used my father's Argoflex with black and white film. All three cameras we used required light meter readings and settings for good shots, and my father generally got it right. At 12 or 13 I just shot them with approximate settings. This is one of mine, slightly out of focus, but you get the mood of hot summer day, baggage door open, and baggage man ready to off-load the afternoon edition Bulletin.
<![if !vml]>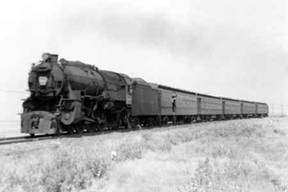 <![endif]>
K-4 with train inbound at Oak Avenue Station in Wildwood. Primary use platform built on sharp curve was an afterthought when PRSL created merger connected former Reading line into Wildwood with PRR trackage that ran down the center of New Jersey Avenue at a point only a few feet beyond this crossing. This was the former Reading station and it still had two unused stub end tracks that came back into use after the steam was gone and the street trackage removed.
Rare Horse Car (Most likely a PRR B74a) was used for general baggage work during summer season. Morning train from Phila would spot a car on a siding that was in the center of New Jersey Avenue in Wildwood, site of former PRR station. Railway Express had an office nearby and their truck would offload and the car would generally return on an afternoon or evening northbound train. It was rare to have two baggage cars there and even rarer to see this car. It was named "Idledell Farm" and was not listed in a roster of PRR horse cars that I found on the internet. I also saw a theatrical scenery car there used for the same purpose.
<![if !vml]>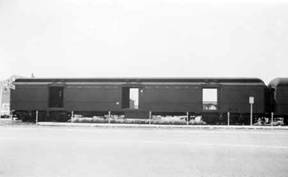 <![endif]> <![if !vml]>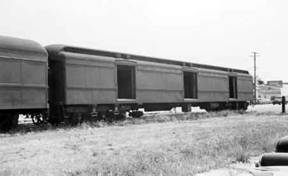 <![endif]>
One of my favorites! My father loved these "mood shots" and here we have both parties to the PRSL merger represented in the Camden yards. I am 99% sure this photo was taken on George Washington's birthday in February 1956 as I know it was a holiday when we both could make the trip. I remember it was bitterly cold and windy there off the river. The H-9 had just been spotted on this track as a dead retired loco ready for a trip to the scrapyard.
<![if !vml]>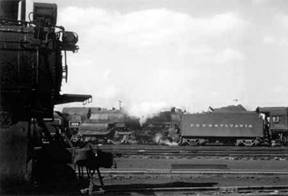 <![endif]>
The location of this shot is uncertain. I think it may have been taken from the Parkway over the line from Wildwood to Wildwood Junction, but I am not sure.
<![if !vml]>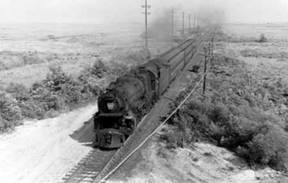 <![endif]>
Notice the sophisticated coaling facility in Cold Spring Harbor, and the adjacent Hostler's shanty. At times there would be two or three of these grey "company coal" hoppers spotted here, brought in on the weekly freight, which by that time was diesel powered.
<![if !vml]>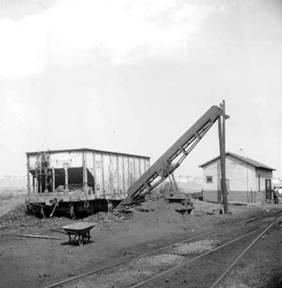 <![endif]>
Wildwood Junction 1954
<![if !vml]>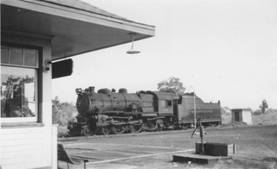 <![endif]>
West Ave Ocean City
<![if !vml]>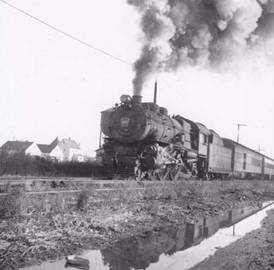 <![endif]>
Famous K-4 #5495 running through Dorothy New Jersey at 80+ heading for Philadelphia. Jim & I both have an obsession for K4 5495, especially in PRSL Service
<![if !vml]>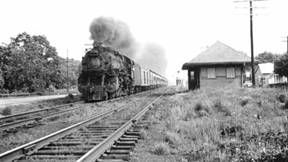 <![endif]>
My connection to 5495 was an outgrowth of making almost daily trips to the Wildwood Oak Ave station in 1954 after my family bought a summer home in N. Wildwood. My recollection is that initially every K-4 I saw (and there were quite a few as the engines changed frequently that summer) had a modern cast pilot, and 5495 had the original slat type. I also found 5495 as the K4 that appeared in PRR builder's photos and one that regularly hauled the Broadway and other named trains. These factors raised it to "celebrity" status in my mind, but the next year I did see two others with the early pilot, 7133 and 5497, which also made it to Wildwood. Unfortunately many of the photos my father and I took were not dated, but they were all taken between 1953 and 1956.  As I recall, there were three inbound and three outbound Phila trains a day with steam to Phila. The Camden trains were RDC by that time.
On busy weekends in 1955 K-4s and G-3s arrived in Wildwood, although the G-3s were the regular power. I think 5497 was among the last, if not the last K-4 into Wildwood, and like 5495 it was one of the very few with a cast frame. My PRR roster shows 5495 retired in April 1956, 7133 in Sept 1956, but 5497 lasting until April 1958, but I am sure it sat dead until after Nov 1957.
<![if !vml]>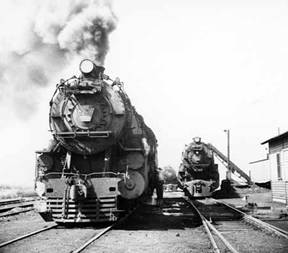 <![endif]>
The photo my father and I considered his best work, the black and white version. Entitled "3 Faces of the K-4" Cold Spring Harbor 1954
The above photo is solely responsible for my interest in The PRSL. It moves me EVERY time I look at it! – Bill
We head off to Camden…
A good shot of the Camden Coal and Water Tower.
<![if !vml]>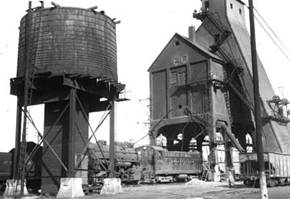 <![endif]>
These are photos of the E-6 1600 are on the last day of service for the last PRR E-6.
It was Camden to Pemberton on February 22, 1956.
<![if !vml]>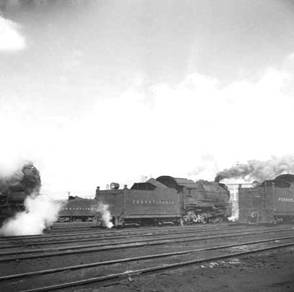 <![endif]> <![if !vml]>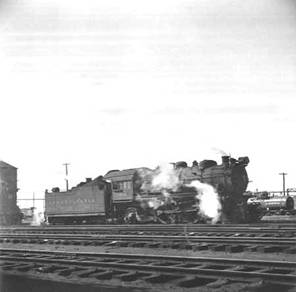 <![endif]> <![if !vml]>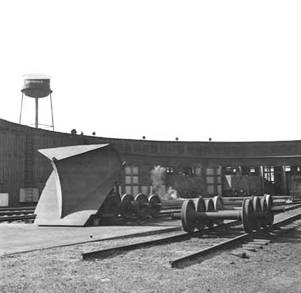 <![endif]>
<![if !vml]>

<![endif]>
Updated 5-7-21
© PRSLHS 2021
Resuscitated from a 20 year nap on 1-25-07